Sticky Notes
Useful at home, school or the office, sticky notes are a superb and long-lasting form of promotional tool. Freely customize your artwork, pad size and configuration.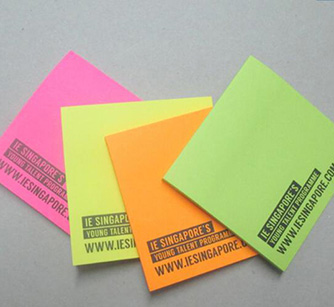 Common Material

Woodfree Paper
Woodfree Paper is a type of natural uncoated paper and is the standard paper type used for sticky notes

Coloured woodfree paper
Vibrant and visible, this paper comes pre-coloured and is a good material choice for sticky strips.

Artcard Softcover
Thicker artpapers are known as artcards and they are used as the cover material for 'soft' cover sticky notes
Hard Cover
Printing is done on the artpaper and mounted on the board to form a hardcover.
PET Strips
PET strips are a colourful addition to sticky notes combinations. Great for use as page markers.